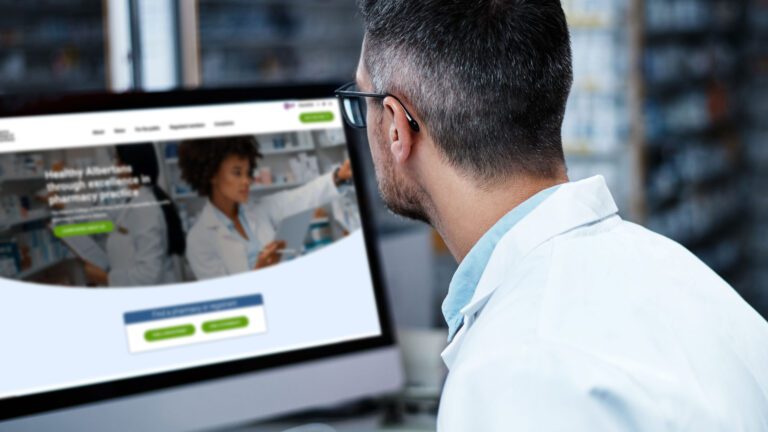 Check out the new abpharmacy.ca!
After 10 years, abpharmacy.ca was due for a refresh. Today, we introduced a new look and feel for our website that's more modern, intuitive, and interactive.
For starters, you'll notice in the top right-hand portion of the screen the green "Help me find" button. This is where you can search for all content posted on the website. Please note that since the website is brand new, it will take search engines and our website's own search up to 48 hours to update to the proper results. You can also use the "Help me find" feature as a quick way to find a regulated member or a pharmacy, see some of the most relevant or timely information from the college, or access prescriber lists.
Across the top of the screen, you'll find our main menu bar. The "Regulated members" section is where you will now find information about
your registration with the college;
licensing information for new and existing pharmacies;
the Continuing Competence Program;
the practice framework, including the Code of Ethics, standards, guidance and guidelines, legislation, and understanding professionalism;
practice resources such as prescriber lists, compounding, practice tools, and quality assurance and improvement;
forgery reporting; and
pharmacy robberies and burglaries.
ACP's online register, where you can search for regulated members or pharmacies, is also available on the home page along with quick access to the latest news. News articles can now be easily shared on your social media channels.
There is also an enhanced "For the public" section to help Albertans better understand the roles of regulated members, who can own and operate a pharmacy, and how their pharmacy team keeps them safe.
You can also log in to myACP from abpharmacy.ca by clicking on the myACP logo in the top right-hand corner of the screen.
We encourage you to visit the new site and have a look around. If you have pages bookmarked from our previous site, it's a good idea to find that content on the new site and create a new bookmark for your reference.