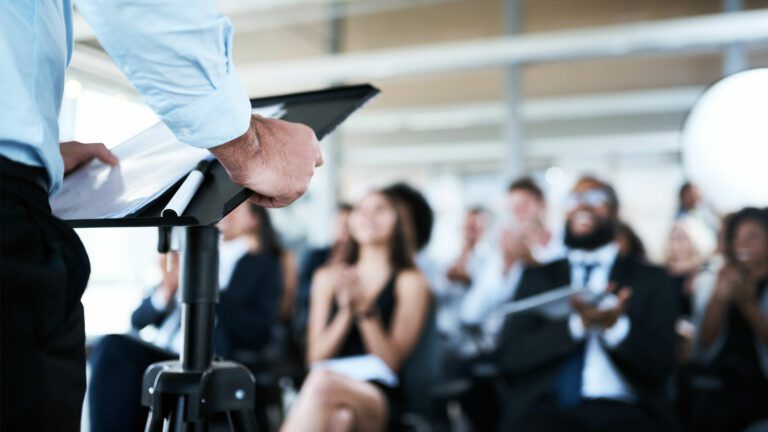 Are you an aspiring leader? Apply by August 3, 2021.
Do you feel called to lead in the world of pharmacy? The Alberta College of Pharmacy's (ACP) seventh Leadership Forum will introduce a select group of participants to thought processes and skills that will help them chart a course through changing times. During this two-and-a-half-day event, facilitators will support participants through group and individual learning activities designed to build confidence and leadership skills valuable to your practice, your community, and your home.
Why does ACP host an annual Leadership Forum? Fostering strong leadership in the profession has been identified by Council as a critical success factor in pharmacy practice, our communities, and in the work of the college. Leadership skills are vital across our professions, whether you're a leader in your practice, organization, or community. If you have an interest in building your leadership capacity, consider applying to attend this year's event!
Previous participants have capitalized on this opportunity to expand their professional roles and opportunities, pursue new leadership roles within the profession and their communities, and have applied this experience within their practices. Feedback received from previous participants includes the following:
"This session was interesting to learn about different strategies, how you facilitate or execute your leadership in your environment, and how to translate that into action."
"One thing I was really impressed with was that the moderator said he would call us afterwards. This really holds you accountable."
"Pharmacists go to a lot of technical sessions in regard to practice, but there's more to it. A lot of what was learned was about the patient. We get hung up within the four walls of our mind, and we disconnect, but I thought the forum helped us focus on who is impacted."
"The more that we learn, and the more that we strive to be leaders, the more that we are going to help our team, and in turn – help our patients."
Event details
Dates
Wednesday, September 29 to Friday, October 1, 2021.
Specific starting and finishing times will be affirmed with final event details.
Location
Fairmont Hotel Macdonald in Edmonton.
ACP will cover accommodation and meal costs for candidates selected to attend. Transportation, parking, and out-of-pocket expenses will be your personal responsibility.
How to apply
To apply, please submit
a cover letter describing your leadership aspirations, particularly as they relate to your professional role and ACP; and
a copy of your CV, outlining your professional background, achievements, leadership experiences, and awards received.
This information will serve as the foundation for selecting candidates for the limited number of spots available at the forum.
Please forward your application and supporting documentation to executiveassistant@abpharmacy.ca by August 3, 2021. We will notify selected candidates by August 27, 2021.