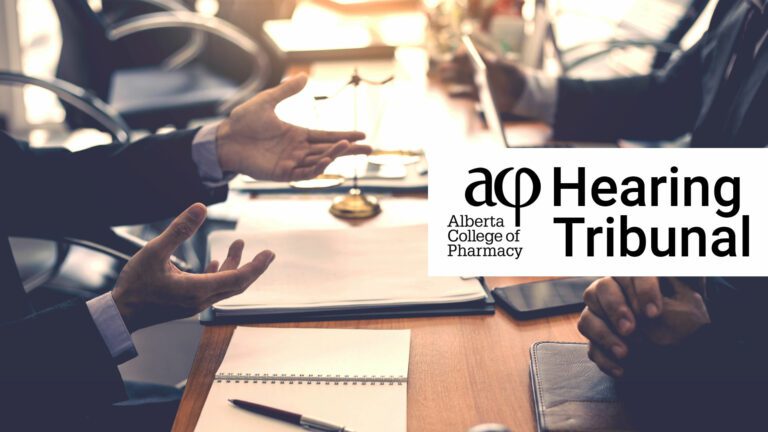 Lessons learned – know your limits and practise within them.  
A recent Hearing Tribunal issued its written decisions on the merit and sanctions regarding the conduct of a pharmacist who was found guilty of serious practice, ethical, and governance breaches. The pharmacist was found guilty of 30 separate allegations of unprofessional conduct, which were consolidated into the following five main categories:
lack of collaboration, consultation, or notification of other health professionals when treating patients with medication for serious, sometimes life-threatening conditions;
lack of awareness of his own limitations and the scope of his practice as a pharmacist;
lack of respect and courtesy for other health professionals with whom he interacted;
his approach to clinical care created serious risks of patient harm; and
Governability issues.
On November 17, 2018, prior to the start of the hearing process, interim orders made under section 65 of the Health Professions Act (HPA) restricted the pharmacist from prescribing Schedule 1 drugs and administering drugs by injection. On April 18, 2019, a further interim order was made to suspend the pharmacist's practice permit. Also, on April 18, 2019, the pharmacy owned and operated by the pharmacist was closed and has not since reopened.
In this matter, the Tribunal imposed the most significant of penalties:
cancellation of the pharmacist's registration with the Alberta College of Pharmacy;
$50,000 in fines (the maximum allowable for pharmacy professionals under the HPA);
an order that if he is ever re-admitted as a pharmacist, he shall be prohibited from serving as a licensee, proprietor, or owner of a pharmacy for a period of 10 years from the date he is re-admitted to the profession;
an order that if he is not re-admitted as a pharmacist in Alberta, he shall be prohibited from ever being a proprietor or owner of a pharmacy in Alberta; and
full costs of the investigation and hearing (estimated to be over $260,000).
Rationale for the Tribunal's decision is reflected in many of its statements, including the following:
[The pharmacist's] proven unprofessional conduct demonstrated a lack of collaboration, consultation, and notifications of other healthcare professionals, but also a lack of insight into the importance of doing so. He seemed to be more interested in experimenting on his patients for his own gratification and this no doubt influenced his decisions not to confer with his patients' physicians. When questioned about his approach [the pharmacist] refused to acknowledge there could be anything wrong with it. He responded instead by impugning the qualifications of the people raising concerns and disparaging them. He appeared to believe that his qualifications were somehow superior to all others including his patients' physicians, and he maintained these beliefs even when confronted with serious concerns about his patient care. 
… … …  
The proven allegations are alarming, frightening, and serious and must be managed accordingly.  The profession of pharmacy prides itself on self-governance, adherence to standards and ethics, and providing excellence in care. One cannot completely disregard these principles and expect to be a clinical pharmacist in the profession of pharmacy; it simply cannot be tolerated. 
The Tribunal's complete reasons for their decision on sanctions can be found on pages 23 to 31 of their February 19, 2021, decision. All pharmacy professionals, especially those pharmacists who practise to their full scope, should review the comments and judgements made by the Tribunal in these pages.
The requirement for registrants to act respectfully and collaborate is foundational to the provision of appropriate intra and interprofessional care to our patients. Specifics examples of the requirement for pharmacists to enter into a collaborative relationship are found in the standards of practice regarding managing a patient's drug therapy, prescribing at initial access, and prescribing when managing ongoing therapy.
Pharmacists and pharmacy technicians – incorporate these lessons into your practice and approach to being regulated as a pharmacy professional:
Always make team-based patient care and patient safety central to your practice.
Review, understand and comply with all requirements in standards of practice and code of ethics that require registrants to act collaboratively. Standards 5 and 14 of the Standards of Practice for Pharmacists and Pharmacy Technicians, and Principle 12 of the Code of Ethics are but a few examples of these requirements.
Understand that just because Alberta's legislative framework for pharmacy is enabling, that does not mean there are no limits to the clinical services pharmacists and pharmacy technicians may provide within our scopes of practice.
Review and discuss with your peers the registrar's "Just because you can, doesn't mean you should" articles from the May, July, and September 2015 editions of ACP News.
Deport yourself in a consistently professional and respectful manner. Respect is a cornerstone in building a collaborative professional relationship with other members of your patients' health care teams.
Discuss with your colleagues how you and your pharmacy can better work with other health care providers to provide optimal care for your mutual patients. Visit understandingprofessionalism.com and review the section on being a collaborator. Put changes into action!
Understand that a failure or refusal to cooperate with a practice visit, inspector, investigator, or field officer may be considered unprofessional conduct or misconduct. See section 1(1)(pp) of the HPA and sections 1(1)(p) and 21(8) of the Pharmacy and Drug Act.