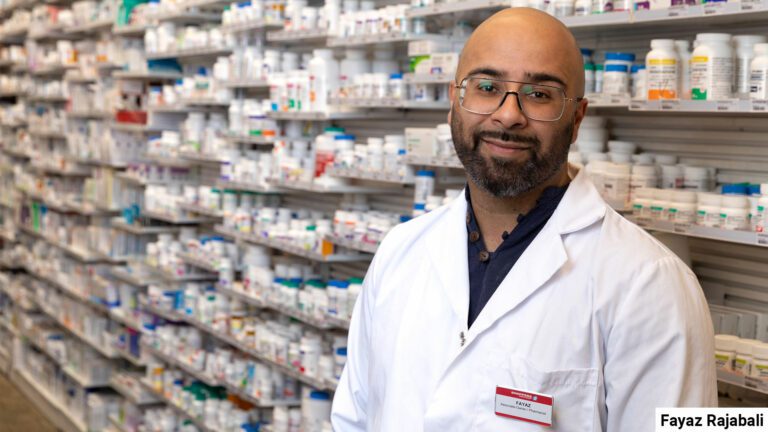 Serving on Council has ignited Fayaz Rajabali's passion for pharmacy.
As a pharmacist and licensee in a community pharmacy in Edmonton, Fayaz Rajabali has dedicated himself to help internationally educated pharmacist graduates (IEPGs) make the transition to pharmacy practice in Alberta. He worked as an educator and has precepted and mentored over 100 IEPGs to help them understand how pharmacy is different in Alberta than in other jurisdictions around the world, how to meet patient expectations, and how to help patients meet their health goals. It was at the prompting of his students that he decided to run for Council in District 3 (Edmonton).
"I had the passion to positively influence how pharmacy can impact the health system as a whole and I felt I could add value to the college from not only a practice but a systems point of view," said Fayaz. "As a Council member, I have always been a proponent of strengthening our entry-to-practice process. I understand the value of nurturing and preparing candidates to achieve consistency and quality pharmacy practice that will impact patients in a positive manner."
Fayaz was first elected to Council in 2017. In the third year of his first term, he served as Council president. He admitted that the learning curve to prepare for the president's role was steep, and he initially had doubts he was up for the job.
"I wasn't sure about my aptitude and competence when I assumed the role, knowing that we had a rich history at the college," he said. "ACP is often the focal point of progressive practice, not only in Canada but the world. People watch what we do. By working with past presidents, other Council members, and the ACP team, I was able to perform my role honourably. All thanks go to the ecosystem I worked in."
A little more than halfway through Fayaz's tenure as president, the unthinkable happened—a global pandemic that put many aspects of everyday life at a standstill. Council had to adapt. Quickly.
"Walking into the first half of COVID, there was no rulebook to follow," said Fayaz. "In regulation, we sometimes have a reputation of being bulky and slow to respond, but we showed our progressiveness and nimbleness with initiatives like our Laboratory and Point-of-Care Testing Standards and our Virtual Care Guidelines (which were replaced in 2022 with the Standards of Practice for Virtual Care), both of which enabled pharmacists and pharmacy technicians to practise in an environment that could adapt to certain challenges. There's been no bigger challenge than COVID."
Fayaz has learned a lot during his almost six years on Council, particularly with how healthcare regulation works.
"Prior to my time on Council, I had thought that Council activities and deliberations were a linear process in response to issues," he said. "That was my first fallacy. In reality, regulation starts with a broad, versatile perspective to tackle systems problems. You must have good governance fostered by a competent Council that collectively pursues goals in the public interest."
However, Fayaz says that's just the beginning when it comes to healthcare regulation. He says it also requires fostering relationships with others in a dynamic system.
"Pharmacy is just a piece of the entire healthcare puzzle," said Fayaz. "Often, we are not the owners of healthcare system decisions, but we try to influence those decisions to ensure they're in the best interest of the public."
While this experience has allowed Fayaz to learn more about governance and healthcare regulation, he has also learned a great deal about himself.
"The college has a strong Council and great staff who have enabled me to evolve my decision-making skills and my own personality," said Fayaz. "There's a lot of self-investment that's involved, but that's what's needed to be an effective contributor at this level. I've learned that being effective doesn't just come down to my experience in practice. That helps, but it's about understanding how to navigate challenges to get the right outcome. The experience has also enabled me to do better work in the pharmacy. I've developed my emotional IQ to better collaborate with others. That's not just within the four walls of the pharmacy; it's also when I work with other healthcare professionals."
Fayaz encourages other pharmacists to consider putting their name forward and contributing to the profession that has given him and his colleagues so much.
"If you're passionate about change and being involved in your profession, this is the place to do it," said Fayaz. "You may need to step out of your comfort zone, but I urge you to look at yourself and the passion you bring to the pharmacy every day including the care you provide to your patients, and bring that energy to the Council table. If you don't want to be involved on the Council, I still urge you to get involved in any of the committees, work groups, or take part in ACP Connect sessions. All the voices from these different perspectives are brought to the table one way or another."
As Fayaz prepares to pass the torch as Council member to another pharmacist in District 3, he looks back at his experience on Council with pride and gratitude.
"It's been a great experience," said Fayaz. "It's an investment. It takes me away from my family at times, but my family recognizes that I love what I do. It's so rewarding. It's something I'll miss. I'll probably have some withdrawal. The college is in my DNA now."