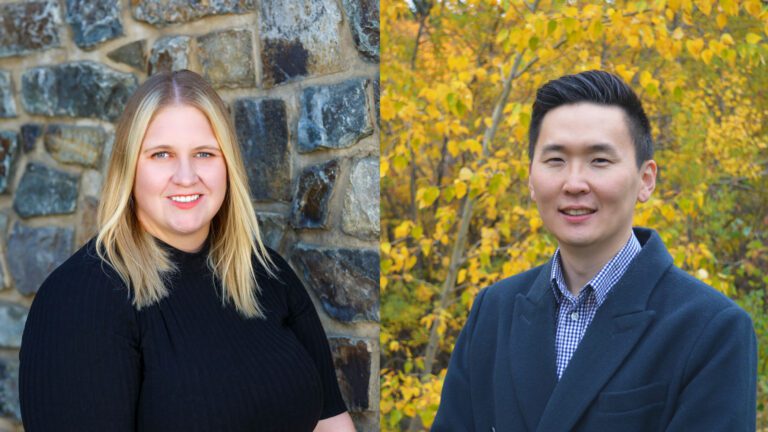 Katie Swan and Vince Seo join the ACP professional practice team.
Katie Swan
Pharmacy Practice Consultant, Calgary
Growing up in Kamloops, BC, Katie Swan was first introduced to the world of pharmacy when she began working as a cashier at the age of 15. She eventually became a pharmacy assistant, working alongside the pharmacists.
"I liked the relationship they had with the patients and how they were able to support the patients," said Katie. "The patients knew the pharmacists by name and came in for advice. Often the pharmacists were able to help them or refer them to someone who could. I liked the rapport and relationship that was built as well as the science side of knowing the medications, what they do, how they act in the body, how they relate to each patient, and why they wouldn't work for certain patients based on allergies or other conditions."
Katie graduated with a Bachelor of Science in Pharmacy from the University of Alberta in 2015. Since then, she gained experience as a pharmacist and pharmacy licensee, including time managing the Rexall outpatient pharmacy at the University of Alberta Hospital. She also travelled to other pharmacies in Alberta and BC to support them to practise and operate to the standards. Now, she's supporting pharmacy teams in Calgary and surrounding area as a pharmacy practice consultant (PPC)[1] with ACP. She believes her experience coaching teams at Rexall will benefit her in her new role.
"By being aware of how other pharmacy teams practise, you can pinpoint what their barriers are to achieving the standards or know how to ask what their barriers might be, and to adapt your approach to support them to achieve the standards in the best way possible," she said. "It's important to know there are different scenarios that could happen in rural, urban, outpatient, or compounding pharmacies. I've seen many different pharmacies and practices."
Vince Seo
Pharmacy Practice Consultant, Edmonton
Vince Seo has a mind for both science and business. So much so, that when he first attended the University of Alberta, he earned a bachelor's degree in chemistry with a minor in business. When contemplating how to apply these skills, a move to pharmacy seemed like a natural fit as it seemed to combine these two areas. He then completed his Bachelor of Science in Pharmacy in 2017 and began his career as a pharmacist.
Like Katie, Vince gained experience as a pharmacy assistant before he became a pharmacist. His experiences with different roles within a pharmacy team and his business training have given him a good perspective about how pharmacy teams can operate safely, effectively, and efficiently. It helped him become a good pharmacist and now will prove beneficial in his new role as a PPC for Edmonton and area.
"The regulator's role is something that has been on my mind since pharmacy school," said Vince. "Going through all the legislative requirements got me interested in being part of the regulatory system. The tipping point for me was when Kiran, the previous PPC (currently on leave), visited my pharmacy. Going through the process with her and seeing the impact she had on my team naturally made me want to pursue the similar influence that she had, making sure pharmacy practice is performed at a level that ensures the safety of patients."
---
[1] PPCs are field officers (as defined by Part 2 of the Pharmacy and Drug Act) and inspectors (as defined by Part 3.1 of the Health Professions Act)  who work with pharmacy teams to enhance compliance with practice and operational standards, through quality assurance and quality improvement initiatives. PPCs are pharmacists who provide coaching with the goals of promoting quality care and ensuring safety for anyone who accesses pharmacy services.
The PPCs achieve this by conducting pharmacy practice and operations assessments regularly in pharmacies across Alberta. The PPCs help pharmacy teams improve their workflow, adhere to the standards of practice, and empower teams to deliver quality care to their patients.