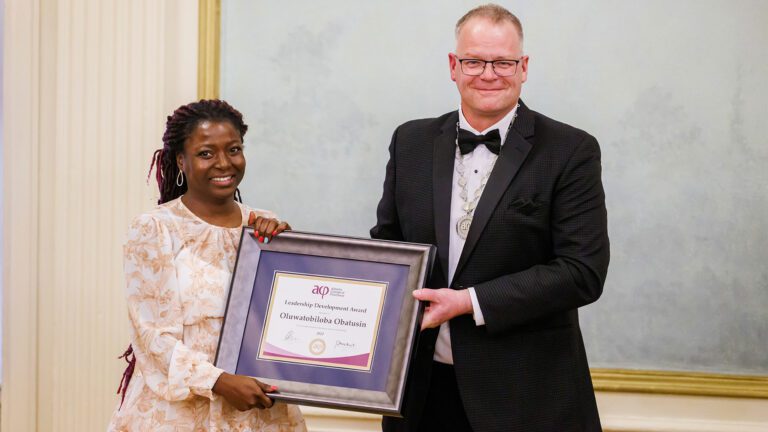 Fourth-year U of A student Oluwatobiloba (Tobi) Obatusin earns ACP's 2022 Leadership Development Award.
On June 8, 2022, the Alberta College of Pharmacy (ACP) held its first Celebration of Leadership event since 2019. At the event, University of Alberta student Oluwatobiloba (Tobi) Obatusin was presented with the 2022 Leadership Development Award. Ayush Chadha and Jessica Buhler were also presented with this award, for 2021 and 2020, respectively. These awards are presented to a third- or fourth-year student in the University of Alberta's Faculty of Pharmacy and Pharmaceutical Sciences who has demonstrated exemplary professionalism, leadership, and citizenship.
This week, we begin a series of feature stories on our award recipients, beginning with Tobi Obatusin.
Tobi needed some convincing from her husband to apply for the Leadership Development Award. She also received encouragement from one of her professors and a few friends during the application process. Once she started her application, Tobi found she had a lot to say.
"Sometimes it's hard to put into words, but I am passionate about advocating for racialized students, pharmacy team members, and patients," said Tobi. "I've figured out a lot along the way, but I am looking forward to having the opportunity to get some professional training because this is a passion I want to pursue as part of my career."
Tobi has been an advocate and a leader since she started as a pharmacy student.
"I remember my first day as a student, we had orientation and I looked around and asked myself where the other Black students were," she said. "Through that entire day, I saw only two other Black students."
Tobi began having conversations with her friends, with the Alberta Pharmacy Students' Association (APSA), and with faculty, about the lack of diversity she was seeing not only in the pharmacy student population, but in the broader student population. These conversations built the momentum that led to the creation of the Black Pharmacy Students' Association (BPSA), which was recognized as an official student group in 2021.
Since BPSA's inception, Tobi has led initiatives to build a sense of community for Black pharmacy students as the association's president, developing a mentorship circle, anti-Black racism webinars, and calls to action to address systematic racism. She also served as a member of the Equity, Diversity, and Inclusion (EDI) committee at the faculty level; mentored students; and participated in speaker events to motivate and inspire younger generations of Black Canadians.
As Tobi transitions from student to professional, she remains committed to her leadership and advocacy work.
"When people of colour hold leadership positions, they are able to bring their lived experience to make things better and more equitable," said Tobi. "When you have people from different walks of life with different experiences, different cultural backgrounds, and different languages, they are able to challenge one another with diverse perspectives. I think this diversity is essential to ensure our profession continues to grow."
Understandably, these efforts, on top of her many other responsibilities, can be exhausting, but Tobi knows her hard work is worth it.
"In April, I went to campus to study, and I saw a lot of BPSA members for the first time in-person after COVID-19 restrictions were reduced," she said. "It was beautiful to see Black people studying together, supporting one another, and building a community. Reflecting on how far we've come since we started BPSA makes the hard days worth it."
BPSA has roughly 20 active members now, and the group continues to grow. Since BPSA's inception, there has been a 100 per cent increase in the number of Black pharmacy students at the University of Alberta.
As part of her Leadership Development Award, ACP will contribute $5,000 to allow Tobi to attend a conference or symposium of her choice. Tobi hopes to attend a conference that focuses on the intersection of Black health and social issues to explore how social justice and health come together. Tobi has left an impressive legacy at the University of Alberta and she remains committed to using her voice to advocate for racialized peers and patients and continuing to build equity in pharmacy care.