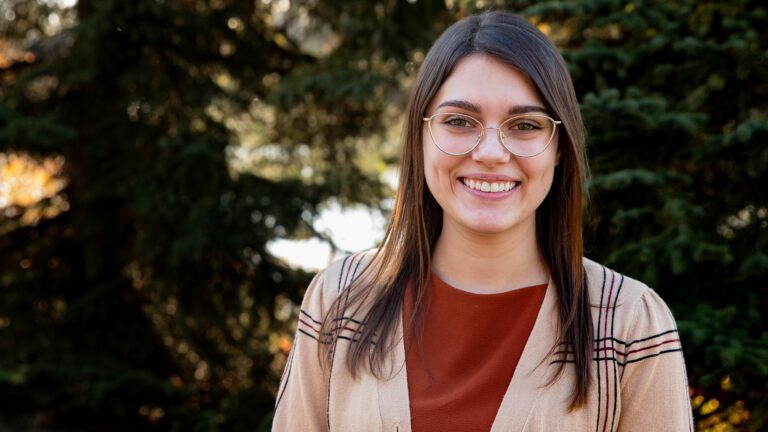 Alexi Yuzwenko is ACP's 2022 Gold Medal Award recipient.
Alexi Yuzwenko was introduced to the healthcare field at an early age.
"My mom is a nurse who introduced me to health care in general," she said. "Her devotion to her patients encouraged me to enter the healthcare field."
Alexi says she learned about pharmacy as a career option in high school and something clicked. From there, she went on to pursue her PharmD from the University of Alberta's (U of A) Faculty of Pharmacy and Pharmaceutical Sciences. Alexi graduated in 2022 with the highest academic standing, earning her ACP's Gold Medal Award.
ACP's Gold Medal Award is presented to the graduating pharmacist student from the U of A's Faculty of Pharmacy and Pharmaceutical Sciences achieving the highest academic standing. The recipient receives a gold medal and a one-year paid practice permit for ACP's clinical pharmacist register.
Reflecting on her education, Alexi says she enjoyed getting to know and work with her fellow students.
"The sense of community was truly outstanding in my graduating class," she said. "The support and passion demonstrated by the class of 2022 was an inspiration and I know my classmates will make phenomenal pharmacists and leaders in the pharmacist profession."
Alexi encourages current students to build connections and make the most of their education. "The advice that I have for pharmacy students is don't be afraid to ask questions to your colleagues and professors – enjoy the experience and soak it in!"
Alexi says, as she transitions from student to practitioner, she appreciates getting to work with patients. "The most exciting aspect of entering pharmacy practice has been helping to improve patient care," said Alexi. "Seeing the direct impact I can make not only by optimizing medication therapy, but also through communication and shared decision making with patients has been very rewarding."
As Alexi looks towards the future, she says she looks forward to lifelong learning. "Pharmacy practice is constantly evolving and I am excited to continue to evolve with it," she said. "There is a great deal to learn in the many roles pharmacists have as educators, investigators, and pharmacotherapy experts to name a few."
With a passion for pharmacy and a continual drive to learn, Alexi will continue to grow and succeed in her field.